Why Choose Stainless Steel Pipe Door Handles?
Posted by Admin on April, 17, 2021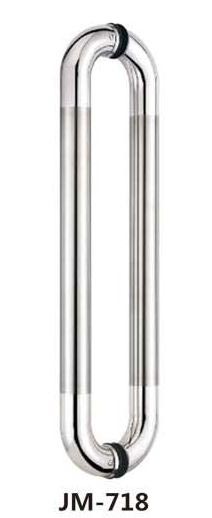 Stainless steel is used in different industries for plenty of purposes due to its amazing benefits. It is also used to make pipe door handle because of its aesthetic appeal and durability. This increases the quality of the product and makes it suited for your use. If you wonder what are the advantages of using stainless steel door handles for your doors, read further.

What Makes Steel Stainless?
Stainless Steel contains chromium, iron, silicon, manganese, carbon and in some cases molybdenum and nickel. It contains around 10% of chromium which plays a very important role in reacting with oxygen to form corrosion product film. This stable film acts like a barrier that limits the water and oxygen access to the underlying metal surface.

Corrosion Resistance
The pipe door handles supplier in UAE provides you with good quality stainless steel door handles for external and internal doors. There doesn't corrode easily even if they are exposed to moist air or water.

At times some manufacturers use different combinations of non-ferrous materials like brass and aluminium. In these products, the electrochemical integration between different metals is ignored which is a disadvantage in the formation of galvanic link between the parent metals and therefore exposure to the process of the structural destruction of the materials are used.

The non-ferrous metals that are present in the door handle oxidize in the air and transmit it to other nearby parts which result in corrosion. This is the reason why it is crucial to produce all the important parts of the door handle using stainless steel. The door handles that are processed properly are free from corrosion and doesn't rust easily. Even in a salty and moist environment they do not rust but have better and more resistant stainless steel.

Aesthetic Appeal
The brass door handles may fade or start to change their colour over time but the stainless steel pipe handles supplied by the best pipe door handles wholesale supplier in UAE preserves their appearance. If the surface of these handles is treated properly it has a noble look and exquisite shape and carefully grinding surfaces which edge signification contributing to the perfection of product.

The stainless steel has a supernatural shine which is the reason why it is used for the production of door handles. These look fashionable and easily complements the interior of your residential or commercial space.

Long-Lasting Durability
Stainless steel is an extremely strong metal that maintains structural stability and is more shockproof to surfaces. The stainless steel gives the pipe door handles have a practically infinite life span. Long-lasting and durable lifetime often makes a door handle the best option.

Minimal Maintenance
While the other materials need special maintenance and care when choosing cleaners, the pipe door handles made with stainless steel have exceptional visual appeal and are easy to clean. You can use mild detergent and soap to clean the stainless steel door handles without any problem. These need minimal maintenance and you can clean them once a month.

Choose to deal with the best pipe door handles supplier in UAE and get the best door handles for your doors.
This entry was posted on April, 17, 2021 at 10 : 22 am and is filed under Pipe Door Handles. You can follow any responses to this entry through the RSS 2.0 feed. You can leave a response from your own site.